Previous Work/Projects
Supply Drive
In high school, a childhood friend and I started a project to help serve underprivileged children in our community gather the resources they needed to assist in their learning. The age range we helped spanned from four years old to 18 years old. Essentially, we helped students in Pre-K through senior year of high school get the resources they needed. For five years we set up a donation box in our neighborhood and promoted the supply drive through flyers that we hand delivered throughout the neighborhood (roughly 1000 houses). Along with school supplies, we also collected new pairs of shoes that neighbors bought and donated. The project was conducted in association with the Back2School Bash. This organization was the recipient of our supplies and shoes, and usually held an event early in August in Mooresville, North Carolina, where children and young adults could come and receive everything they needed for the upcoming school year. We also volunteered at this event every year we were involved in our supply drive. We were featured in an article written by Kate Stevens of the Statsville Record & Landmark, a local paper in Iredell County. I continue to volunteer at the yearly event despite no longer running the supply drive. The supply drive was handed down to a pair of high schoolers who are following in our footsteps.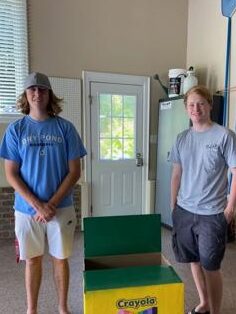 Wfbbcenter Account
Growing up as a fanatic of Wake Forest University athletics, I found a passion covering the baseball team. I had a connection to some of the players and attended numerous as a player during my youth baseball career. In 2021, many of the players I knew around the program hit their stride and started seeing the field often with regards to playing time. For me, it was a perfect time to make my coverage of the team public. I created an Instagram account that serves as a fan-page for the team, and I regularly create graphics related to the team, using sources from inside the program to be ahead of the competition. More than half of the 2022 team follows the account, and most of the player's parents follow it. As of November 2023, the account has close to 250 followers, which is significant for such a niche account. During this process is where I learned and developed skills relating to Photoshop and Canva, working with PNG and PSD templates alike.
DeacsDugout
In the summer of 2023, I launched a separate account covering the Wake Forest baseball team that follows a journalistic approach to the team rather than a fan page-oriented one. This included building a site on Wix and purchasing a domain. I rarely post much on it in the offseason, but when the new season starts back up, I will post a significant amount of articles breaking down players, games, etc. I am currently in the process of attaining an LLC for DeacsDugout.
Mejo121
Currently, I am taking a Media and Journalism course titled "Intro to Digital Storytelling." My professor is Peter Doyle. I have learned how to use Adobe Premiere Pro in this class, along with valuable skills such as setting up, conducting, and editing interviews. For my first project, I interviewed one of my roommates who detailed what his future in the computer science industry will look like and how UNC is preparing him for that workforce. I also learned how to code HTML and CSS, and built several websites using both the code and various website builders. The final project for this class is included in this website.
Comm130
Similar to Mejo121, I am taking a communications class titled "Intro to Media Production" in the fall semester of 2023. My professor is Kristin Hondros. In this class, I have been digitally recording and editing creative videos as set by the guidelines of the class. For example, my first project was recording anything for roughly 2 minutes and with a minimum of 20 shots. I recorded my dad golfing. The second project, which is attached below, is a project where I recorded audio and made a creative video where the audio I recorded synced up with footage I pulled off the internet.